Major investment banks predict a set of consecutive interest rate hikes for 2022, as the Federal Reserve feels the rampant pressure of hyperinflation. If the Fed delivers between five and six 25 bps hikes this year, the stock market will go through a series of dips in a high-volatility environment. Under such a scenario, investors will move away from crypto and increase their position in fiat safe harbours. Such an event could trigger unprecedented turmoil in crypto markets. Could this be the cryptopocalypse?
Correlation
Many crypto-aficionados cheered the rally of leading cryptos that coincided with central banks' massive inflow of liquidity. While in the short run, a positive correlation between crypto and equities was somehow beneficial, it has a disruptive effect in the long run. Crypto-currencies are, by nature, an alternative investment.
Therefore, they should be at least in theory decoupled from the main narrative of fiat driven markets. Correlation with traditional assets means in practice that when the stock market dips, bitcoin and other cryptos face the risk of a massive dislocation.
Zeroed-out
The Fed will nonetheless operate several interest rate hikes in a desperate attempt to control inflation. The expected impact on financial markets could be gradual or sudden, depending on the hikes' frequency and size. In any case, investors will aim to deleverage their crypto positions, resulting in a structural Bitcoin sell-off. The price of cryptocurrencies would contract, while volatility could spike significantly. Sudden dips in crypto prices are not good news for miners, which could suffer significant losses when mining becomes unprofitable.
Moreover, the political turmoil between Russia and Western allies brings more uncertainty into the equation, ex-Soviet countries playing a considerable role in crypto-mining. Under such a scenario, Bitcoin faces the risk of being zeroed out.
What if the Fed fails?
Cryptopocalypse can take place only if the Fed's plan to curb inflation is successful. Nevertheless, if the Fed increases the interest rates, but inflation remains while economic growth vanishes, investors will have to face bigger problems. In a massive recession, high real interest rates, high inflation, and economic contraction are not unusual. Under such circumstances, Bitcoin could find its lost meaning as an alternative option to a dying fiat system.
We are seeing more managed money and, to an extent, institutional money entering the space. Anecdotally speaking, I know of many people who are working at hedge funds or other investment managers who are trading cryptocurrency personally, the question is, when do people start doing it with their firms and funds? Olaf Carlson-Wee, American entrepreneur and the CEO of cryptocurrency fund Polychain Capital
Market overview
When everybody believed that the situation on Ukraine's eastern border is calling down, new worries ignited fears of a military conflict. The market had a few flip-flops and struggled to find direction.
Moreover, the surprising increase in initial job claims brought more unease among investors.
The NATO-Russia tensions triggered a bearish trend in Bitcoin prices, the leading cryptocurrency plummeting near USD 40,000.
Focus:
Nvidia
The sell-off of tech shares initiated in January has unexpected spillover effects, even among well-performing firms. Nvidia, the leading graphics-chip maker, announced record sales of US 7.64 billion in the last quarter, above market expectation. Nevertheless, Nvidia stock is tumbling amid a negative trend on Nasdaq. The Santa Clara-based company improved its sales by 53% on a year to year basis, driven by strong demand for its computation platform and data centres. Popular mainly with the gaming industry, Nvidia products gain traction in other sectors such as automotive and robotics.
Focus:
Twitter

Twitter generated USD 1.57 billion in revenue during the last quarter, marking a 22% year-to-year increase.
Nevertheless, investors are not optimistic about the leading microblogging and social networking service, the negative drift recorded since September 2021 speaking for itself.
Twitter has a relatively lower audience than other platforms, and the user growth is also slower.
Moreover, Twitter struggles with the younger segment, attracted by other social media like TikTok or Snap.
The real threat comes from alternative micro-blogging platforms such as Gettr, backed by the legendary investor Peter Thiel.
Fixed income:
10 year Treasuries
After hitting the highest levels since July 2019, the 10-year Treasury yield dipped below 1.935%. The unrest on the geopolitical scene and the unforeseen impact of the Fed's interest rates hikes amplify the swings in the interest rates curve.
Fed's tighter policy should fuel the long-term Treasury yield, assuming that the implantation is curbed. Otherwise, we can witness an inversion of the forward yield curve, which is not the desired scenario.
Commodities:
Emissions
In 2008, a Financial Times tribune predicted that carbon emission would be worth more than oil in the following decade. While the timing of the forecast was not accurate, the exponential increase in carbon emission prices did take place throughout the pandemic.
Last week, the European allowance (EUA) price representing the right to emit one tonne of CO2, traded at an all-time high near the 95 euros level, while the crude oil barrel oscillated around USD 90.
While many analysts see signs of a bubble, the shift towards a greener and more sustainable economy may well make from carbon emissions the 'oil" of the 2020s.

Market outlook
After a bumpy ride marked by a few significant swings, the Dow Jones Index ended the week into negative territory, above 34,000. NATO- Russia tensions are fueling the market turmoil and increasing the negative pressure.
Bitcoin ended the week above USD 40,000 after a bumpy ride caused by turmoil in the stock market. Bitcoin follows a pattern correlated to the stock market, which exposes the leading cryptocurrency to systemic risk. The interest rate hike could generate new price corrections, and Bitcoin could test the USD 30,000 level over the next month.
The Gold ounce ended the week above USD 1,900 amid a strong rally fueled by the new inflation data. The foreseeable market contraction and the inflationary context are good arguments for a rally in gold prices.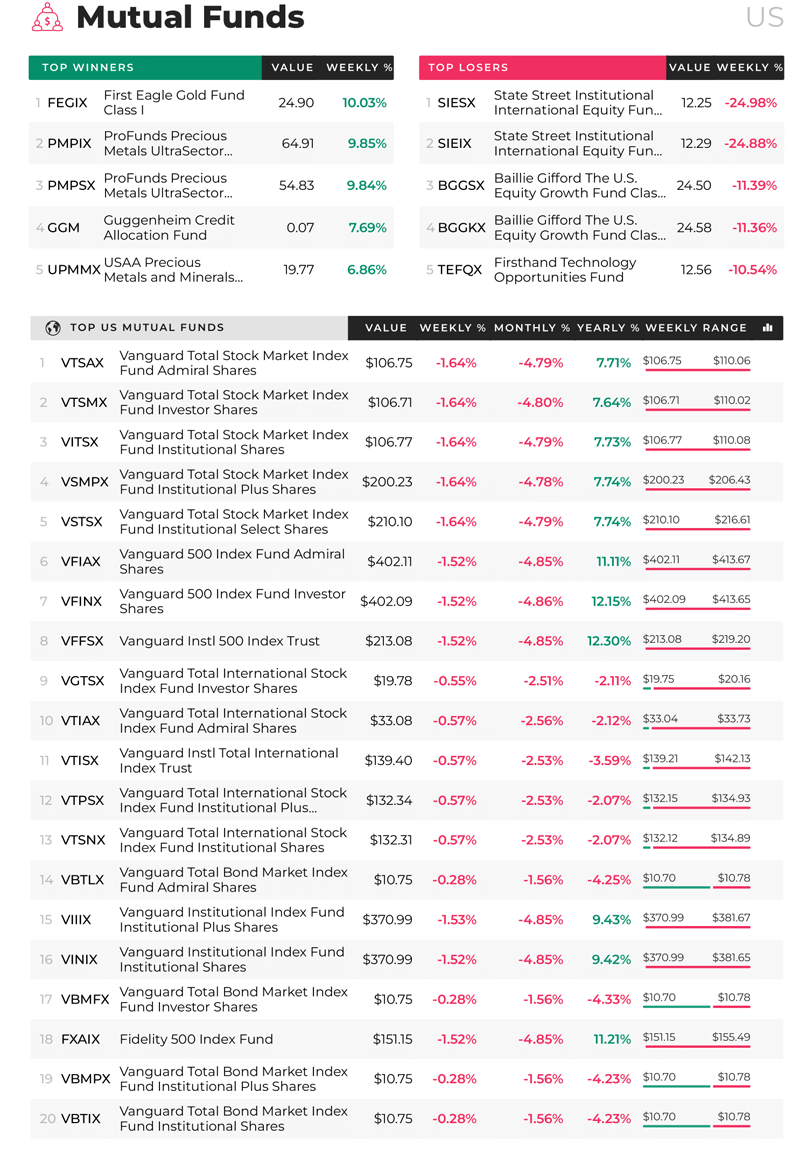 General Disclaimer
The information and data published in this research were prepared by the market research department of Darqube Ltd. Publications and reports of our research department are provided for information purposes only. Market data and figures are indicative and Darqube Ltd does not trade any financial instrument or offer investment recommendations and decision of any type. The information and analysis contained in this report has been prepared from sources that our research department believes to be objective, transparent and robust.
Access the FullResearch forFree
Sign in or register new account in order to get full access to Darqube Research. Access now it's free!
Distributed by Darqube Ltd, United Kingdom.All images and logos are trademarks of their respective owners.
Sign In to Darqube
Don't have an account?
Sign Up